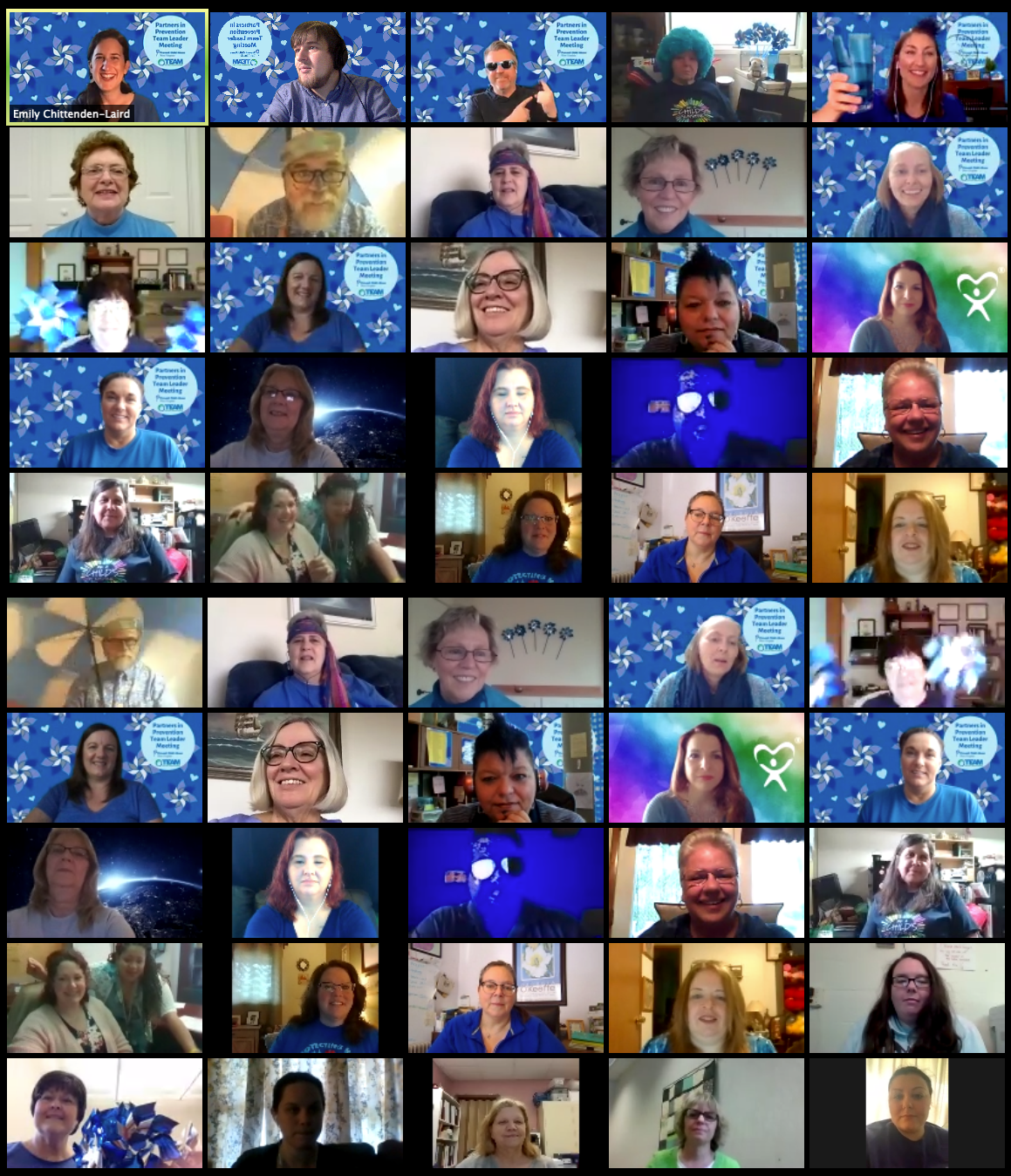 PIP Team Leader Annual Meeting
May 19-21, 2020
Agenda
All sessions unless otherwise noted will take place over the Zoom video conferencing platform. Prior to the conference please make a free Zoom account at Zoom.us, and if possible, download the Zoom app for whatever device you're planning on using to access the meeting. If you are unable to download the app, a browser-based version of Zoom is available, but you may be unable to take advantage of certain interactive features we will be using to keep this virtual conference as engaging as possible. If you are unable to join us through video, you may also call into the meeting, however, you will miss out on the visual elements of our speakers' presentations. For any technical assistance questions feel free to reach out to our partners at 84 Agency by calling 304.250.9114 during business hours.
All sessions are password protected for the security of our presenters and participants. This password will be sent to you prior to the conference via email.
If you'd like, we have created a virtual background you can use during the meeting. You can find it on the conference page here.
Here is the Resilience Spotify Playlist we've created throughout the conference.
Be sure to check this page closer to the conference date to download any handouts or supplemental materials our presenters provide for your use during their presentations.
Tuesday, May 19th 
11:00 – 11:30 Zoom Video Practice Session (optional) 
1:00 – 2:00 Welcome, Getting Reconnected, Orientation to Next Three Days
2:00 – 2:30 Break
2:30 – 4:00 Addiction Nation: What the Opioid Crisis Reveals About Us
Timothy McMahan King, Author, Owner of Vagabond Strategies 
8:00 – 9:00 Happy hour and games (optional)
Zoom link: https://ctfalliance.zoom.us/j/94667279764
Wednesday, May 20th
9:00 – 9:45 Morning Connection
9:45 – 10:00 Break
10:00 – 11:15 Understanding Stress and Self-care (partner session)
Dr. Jim Harris, Associate Director of Training, WV Autism Training Center at Marshall University
*Partner spotlight session hosted by WV Foundation for Rape Information and Services . This session will be hosted on FRIS' platform rather than our ZOOM account. You must first register for the event here then you'll be sent the Zoom link. 
11:15 – 1:00 Lunch break
1:00 – 2:15 Maternal Mental Health: Beyond the Blues
Michelle Comer, TEAM For WV Children
2:15 – 2:30 Break
2:30 – 4:00 Afternoon Connection: Learning From Your PIP Colleagues
Thursday, May 21st
9:00 – 10:00 Morning Connection
10:00 – 10:30 Break
10:30 – 11:20 Risk Factors for Abusive Head Trauma
Joan Phillips, MD, Pediatrician, Child Abuse Specialty, Co-Medical Director, CAMC Children's Advocacy Center
11:20 – 11:30 Break 
11:30 – 12:30 Prevention Happens in Partnership, Closing with PCA WV
Dr. Melissa Merrick, President and CEO, Prevent Child Abuse America
Backup Room
In the unlikely event that we are unable to access the Zoom for a session or need to abruptly exit the Zoom, we have created a backup Zoom that can be accessed at https://ctfalliance.zoom.us/j/95096998965 and using the same password that is being used for all sessions.
If you can't join by video: (929) 436-2866 and enter meeting ID 950 9699 8965.