Job Opening: Western Regional CASA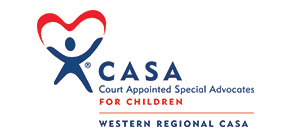 Job Opening: Western Regional CASA
JOB OPENING ANNOUNCEMENT
CASA VOLUNTEER SUPERVISOR
Western Regional CASA, a program of the TEAM for WV Children, has an opening for the fulltime position of Cabell County CASA Volunteer Supervisor, based in Huntington.  Court Appointed Special Advocates (CASA) are community volunteers, appointed by circuit court judges to represent an abused child's best interests in court proceedings.  CASA volunteers also work with older youth to better prepare them for adulthood.  This person will be responsible for recruiting, screening, training & supervising of volunteers, as well as case management, networking & public relations, primarily in Cabell County.
HOURS:
40 hours per week – Monday through Friday
Daytime hours with some evenings/Saturdays possible during volunteer training and recruitment activities
DUTIES:
Recruit, screen & supervise CASA volunteers.
Conduct training for CASA volunteers.
Attend court hearings, meetings, etc.
Maintain accurate case and volunteer records.
Network with other community agencies.
Conduct public speaking engagements.
Complete required reports for grants, etc.
QUALIFICATIONS:                    
Bachelor's degree in social services preferred
2 years experience in human services
Supervisory experience preferred
Computer, communication and writing skills
Experience with volunteers preferred
SALARY RANGE:  Mid to Upper $30K plus good benefits
APPLY TO:
TEAM for WV Children      by March 16, 201
P.O. Box 1653
Huntington, WV 25717-1653
ATTN:    Kim Runyon Wilds                 email:  kwilds@teamwv.org
Equal Opportunity Employer