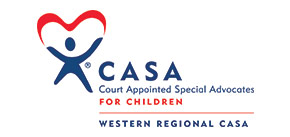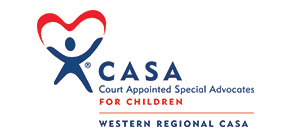 About Western Regional CASA

All children have a right to a permanent home with loving people to care for them. But on any given day in West Virginia has more than 6,000 children who are living outside their home either in foster care or institutions. Many are victims of abuse or neglect who wind up in court through no fault of their own.
It is up to a judge to decide their future. Should they remain in foster care? Should they be returned home – or be adopted? Sometimes a child can remain adrift in foster care for months, even years.
That's where CASA and CASA volunteers come in.
CASA volunteers are Court Appointed Special Advocates for children—trained community volunteers appointed by a judge to speak up for abused, neglected and dependent children in court.
Who Can Be a CASA Volunteer?

You can be a CASA volunteer.  CASA volunteers come from many different neighborhoods and all walks of life. They are working parents, school teachers, homemakers, business people, college students, executives, grandparents and factory workers.
All of these volunteers are responsible adults who care about children. No special experience is required. Volunteers are carefully screened and receive intensive training. They learn about courtroom procedures, the social service system, and the special needs of children who have been abused and neglected.
What Time Is Involved?
It takes about 5 to 10 hours a month. It's hard work, but it's work than can make a real difference in a child's life.
What Do CASA Volunteers Do?
CASA volunteers are men and women who want to help their community's children. They work for the judge, alongside attorneys and social workers, as appointees of the court.
When appointed to a child's case, a volunteer is responsible for taking the time to learn as much as possible about a child. CASA volunteers become:
Fact finders: They review records, interview parents, talk to teachers, neighbors and others who know the child. And—most importantly—they talk to the child.
Advocates: CASA volunteers make sure all the facts are presented to the judge. They are the child's voice in court. They recommend to the judge what is in the best interests of the child.
Facilitators: The volunteers are a part of a team which makes sure each child receives the best treatment available.
Family Links: CASA volunteers answer the questions of the child and family and help to prepare them for each step in the judicial and treatment process.
Monitors: The volunteers maintain close contact with the child to ensure court orders are followed and the child remains safe.
Volunteers Are Needed

CASA is a unique, challenging and personally rewarding project, and one which needs your help.
We are seeking individuals to advocate in Boone, Cabell, Jackson, Kanawha, Lincoln, Putnam, Roane, Calhoun, Mason and Wayne counties in West Virginia. We want people who are willing to make the commitment needed to become a CASA volunteer. Training and ongoing supervision are provided. Volunteer training sessions are held several times a year.
Join the first CASA Project in West Virginia (the TEAM for West Virginia Children initiated West Virginia's first CASA project in Cabell County in 1991). You will be joining a nationwide network that includes nearly 55,000 other volunteers in CASA programs across the country who are speaking up for a child.
There are abused and neglected children in our community who need support. Become a volunteer. Make a contribution. Or simply tell others about how CASA is helping children during a frightening and bewildering time.
How Do I Volunteer?
If you or someone you know is interested in becoming a CASA volunteer and would like more information, click here for an application or contact the Western Regional CASA coordinator.
More About Our Organization and Our Service Area

West Virginia Regional CASA is affiliated with the West Virginia CASA Association and the National CASA Association. You can learn more about these organizations be clicking below.
West Virginia CASA Association
National CASA Association
Locally, Western Regional CASA
CASA serves children in Boone, Cabell, Jackson, Kanawha, Lincoln, Putnam, Calhoun, Mason, Roane and Wayne counties.