Advocacy
Partners in Community Outreach is requesting a $2 million increase in the state appropriation for In-Home Family Education, which includes $1 million for Family First Prevention Services.
The last state increase was in 2013.
Historically, In-Home Family Education/Home Visiting has had state and federal bi-partisan support.
It is more cost effective to provide primary prevention services such as In-Home Family Education than to wait for families to reach a crisis state and enter the child welfare system.
In 2013, the West Virginia Early Childhood Planning Task Force recommended that West Virginia "Phase in evidence-based home visiting programs in every county for families who are expecting or raising young children." (www.wvecptf.org)
For more information, please contact:
Michele Baranaskas
michele@wvpartners.org
304-543-3770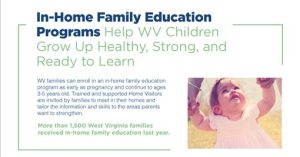 Looking for company on this journey into parenthood?
Click here to reach out now, because a parent is the most important job you will ever have.