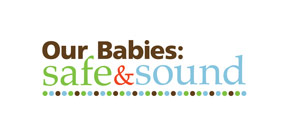 Infant Product Safety
Baby Products Safety Checklist:
Has the product been recalled?
Has it been tested to meet mandatory safety standards?
For answers to these questions and up-to-date information about baby products safety, visit kidsindanger.org or saferproducts.gov.
Position Statement On The Use Of Baby Boxes To Promote Infant Safe Sleep
August 2017
Our Babies: Safe and Sound believes providing each baby a safe sleep environment is critical to reducing the infant mortality rate. We provide education throughout West Virginia to increase awareness about infant safe sleep based upon research and recommendations of the American Academy of Pediatrics. In recent months, there has been an increased focus on using a baby box (also known as "Finnish baby box") as a sleep surface. Currently, the American Academy of Pediatrics Task Force on SIDS does not believe there is yet enough evidence to say anything about the potential benefits or dangers of using baby boxes. At this time, the Advisory Panel of Our Babies: Safe and Sound does not recommend the use of a baby box to place an infant to sleep due to unknown potential risks and lack of evidence of its safety.
While we encourage new ideas to promote infant safe sleep, the baby box does not meet the requirements of an evidence-based initiative. Although Finland has used the baby box since the 1940s, there has been no research, and discussions often fail to address other contributing factors for Finland's low infant mortality rate, including incentives for prenatal care, universal health care, and extended parental leave.
Our Babies: Safe and Sound is committed to ensuring that families have the necessary information and resources to keep their babies safe while sleeping. We continue to recommend the ABCs of infant safe sleep – babies sleep alone but nearby, placed on their back, and in a safe crib for every bedtime and naptime.
This program is being presented with financial assistance as a grant to the TEAM for West Virginia.
Children from the WV Department of Health and Human Resources
and funding support from the Claude Worthington Benedum Foundation.