2021 Bill and Vickie Smith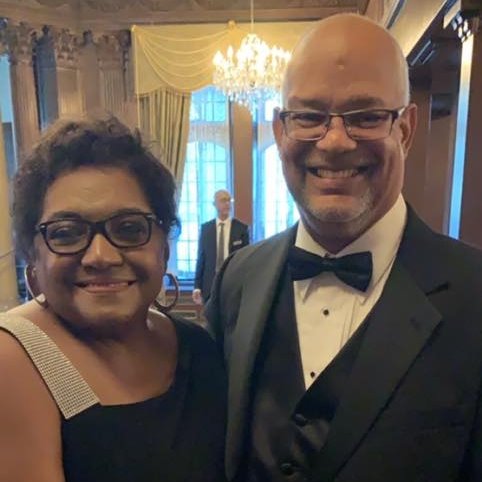 Photo Above:  Bill and Vicky Smith
Tribute Video below.
The TEAM for West Virginia Children virtually hosted the 14th Service to Children celebration on Thursday, April 29th, Bill and Vickie Smith were presented the TEAM's Service to Children award. 

This award applauds the support and dedication that Bill and Vickie Smith have placed on promoting quality educational experiences for our community and beyond. Vickie taught in the public school system for over 40 years, worked at Marshall as a Literacy Specialist, is active in the AKA sorority, and has served on various boards. Bill began his teaching career at Huntington High School in 1973, served in various roles in the school system including superintendent of Cabell County schools for 12 years, and serves on the Mayor's Arts Council. 
While the evening looked a little different than in years past, it was still a fun, interactive party, celebrating Bill and Vickie Smith AND the work that the TEAM continued to do throughout the past year. The hour-long event included videos, testimonials, an interactive Bingo game, and presentation of the award. Ryan Saxe, Cabell County Superintendent of Schools was the emcee for the event.
The Service to Children event raises needed funds for the TEAM for West Virginia Children. Despite a year of navigating the challenges of COVID-19, the TEAM continued its programs to strengthen families and make the needs of West Virginia children a priority.  
The Hoops Family Children's Hospital was the Presenting Partner.
The Service to Children Award is given each year to a person or persons who exemplify TEAM's mission to work with communities and families to promote and advance the well-being of children, making their needs and healthy development a priority.
Sponsors included:  Hoops Family Children's Hospital as the Presenting Sponsor, Assured Partners of West Virginia, Bailes, Craig, Yon & Sellards, BB&T/Truist, Dale and Cathy Burns, City National Bank, Construction Management Services, Edward Jones – Financial Advisor: Christopher Ball, Farrell, White & Legg, The Fyffe Jones Group, Greene, Ketchum, Bailey & Tweel, H3 LLC, Jenkins Fenstermaker, King's Daughters Medical Center, Marshall Health, Marshall Orthopaedics, Marshall University Office of the President, Marshall University Social Work, Mid Atlantic Maintenance Corporation, Morgan Stanley, Prosource, Dr. Joseph Touma, Valley Health, and WesBanco.