2018 Margaret "Peggy" Phipps Brown and Eduardo Pino, M.D.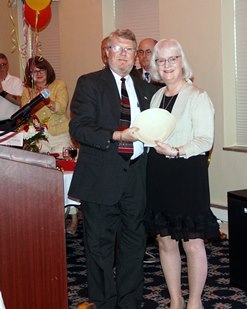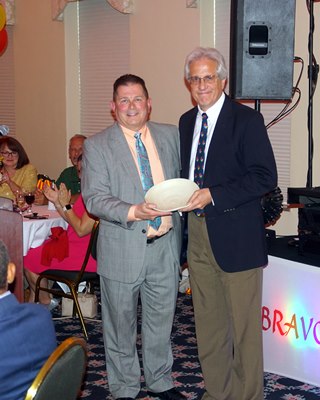 On May 15, 2018, Margaret "Peggy" Phipps Brown and Eduardo Pino, M.D. were honored by the TEAM for West Virginia Children with it's Service to Children Award.  The Hoops Family Children's Hospital was the Presenting Sponsor.
The Service to Children Award is given each year to a person or persons who exemplify TEAM's mission to work with communities and families to promote and advance the well-being of children, making their needs and healthy development a priority.  Both of the 2018 recipients share TEAM's vision of West Virginia as a state where all children can grow and thrive in safe, stable, nurturing relationships, free from abuse and neglect, so they will achieve their maximum potential as adults.
Many thanks to our sponsors.  Captain America Sponsors ($2500) – H3 LLC; Marshall Health;  Insurance Systems and Bloss & Dillard; First Sentry Bank;  and MIRC Construction.  Wonder Woman Sponsors ($1500) – Merrill Lynch, Pierce, Fenner & Smith; Buffy & Corky Hammers; Farrell, White & Legg; Campbell Woods; Barnes Agency;  St. Mary's Medical Center; and Ben McGinnis and Morgan Stanley Smith Barney LLC.
Eduardo Pino, MD, has served many roles within Cabell Huntington Hospital.  Currently, Ed serves as the Medical Director of Hoops Family Children's Hospital, the Physician Advisor for Clinical Documentation Integrity, and the Medical Director, Clinical Transformation.
Margaret "Peggy" Phipps Brown, JD, has served as Professor of Criminal Justice & Criminology at Marshall University, since Fall 1982.  She also has a long history of practicing law, most recently serving as the Assistant Prosecuting Attorney in the Cabell County Prosecuting Attorney's Office for nearly 30 years.
Both Ed and Peggy have strong connection to the TEAM.  In 1986, when the TEAM (initially known as the Cabell County Child Protection Team) formed as an agency, it was Peggy who wrote up the required Articles of Incorporation and served on the Board of Directors the first year.  She was also instrumental in bringing CASA to West Virginia, conducting a study in Cabell County to determine if the judges felt a need for and would support the start-up of the state's first CASA program.
Ed also served on the TEAM's Board in 1991-1992.  He helped to organize and participated in a volleyball tournament to raise money for the TEAM.  He eventually recruited his sister, Dr. Isabel Pino, to also serve on the TEAM's Board.
Both of these individuals were instrumental in establishing the area's first Child Advocacy Center at Hoops Family Children's Hospital.  In her role in the Prosecutor's office, Peggy has been influential in nudging the child welfare system to be more child-focuse4d, bringing the key players together to avoid further trauma to the abused child.  Likewise, Ed has spent his career looking out for what is best not only for the children in his practice, but also throughout our community.