Partners in Prevention
Partners in Prevention is a unique model of communities working together to strengthen families and help West Virginia's children grow up free from abuse and neglect.

This model is based on the belief that child well-being hinges on the capacity of local communities to support families and protect children. This approach is built on a framework of collaboration between and among community groups, state and local organizations and local teams.
Community teams across the state participate in this program of educational workshops, networking and mini-grants. The goals of the teams are:
Raising awareness about the prevention of child abuse and neglect
Developing and expanding effective services that prevent or reduce child maltreatment
Informing policymakers about best practices in the prevention of child abuse and neglect
The Partners in Prevention Community Grants are supported by The West Virginia Children's Trust Fund, the Claude Worthington Benedum Foundation and the WV Department of Health and Human Resources.
Community Teams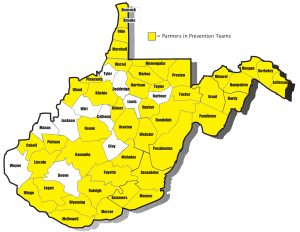 Partners in Prevention is a statewide network of community teams implementing various community projects and working together to keep children safe. Participating teams receive annual grants of up to $5,000 to conduct local projects to strengthen families, protect children, and engage the public in these efforts. Forty-four community teams are participating as Partners in Prevention.
Click to download the PIP Grantee Map.
Click to download the directory of PIP projects (FY 2019).
For specific information about the PCAWV grant programs, please contact Jim McKay, PCAWV State Coordinator, at (304) 617-0099 or by email at pcawv@teamwv.org.
Our Story by the Numbers
During the past year, Partners in Prevention teams across the state of West Virginia:
Provided Public Education and/or Services to 100,624 individuals and organizations.
Distributed 72,624 pieces of educational materials and/or resource packets to caregivers and community members.
Trained 5,663 individuals and/or organizations through locally based workshops and a variety of prevention curricula.
Coordinated 395 public events in their communities, and
Generated 418 public messages (via print articles, radio, and television) about the importance of supporting and nurturing children & families, as well as public engagement activities to help families thrive.