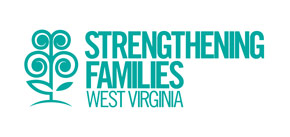 Home Visitors
Early childhood home visitation, or In-Home Family Education as it is known in West Virginia, is a powerful strategy to promote positive childhood experiences; thereby preventing child abuse and neglect. In-Home Family Education are voluntary programs providing parenting education and support to families with young children in their homes. In-Home Family Educators help parents understand their role as their child's first and most important teacher. They provide information and support in areas such as prenatal care, child health, early learning, literacy, child development and behavior. They help connect families to resources in their community and help families stay together safely. This is done by emphasizing each family's strengths and helping them reach their goals. These programs build protective factors, which enable families to deal more successfully with whatever challenges arise.
There are several models of In-Home Family Education programs in West Virginia that have met the rigorous research standards and been identified as models approved by the Maternal, Infant and Early Childhood Home Visiting Program, a provision of the Affordable Care Act. Identified models include: Early Head Start – Home-Based Option; Healthy Families America; and Parents As Teachers. The West Virginia Maternal Infant Health Outreach Worker Program, from the Center for Health Studies at Vanderbilt University, is undergoing a research project as a Promising Approach.
Click here to download the guide for In-Home Family Education.