2019 A. Michael and Henriella Perry Family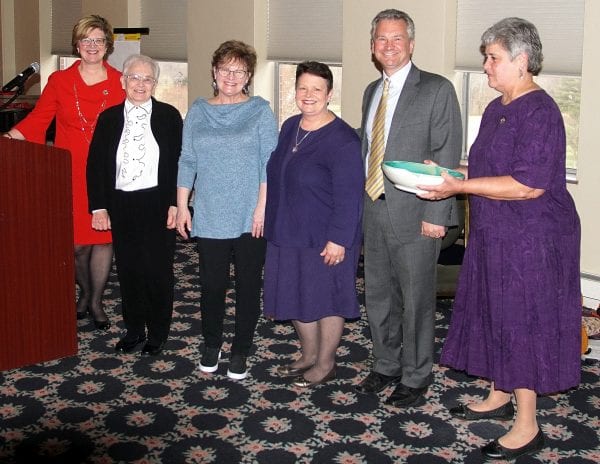 On April 4, 2019, the A. Michael and Henriella Perry Family was honored by the TEAM for West Virginia Children with it's Service to Children Award.  The Celebration was held at the Guyan Golf & Country Club with a down on the farm theme.  By all accounts, the attendees had a wonderful time.
The Hoops Family Children's Hospital was the Presenting Partner.
The Service to Children Award is given each year to a person or persons who exemplify TEAM's mission to work with communities and families to promote and advance the well-being of children, making their needs and healthy development a priority.
The Perry Family's Heritage Farm began with the first "Spring Festival" on May 4, 1996.  Since then, The Farm has added a petting zoo, working saw mill, an Artisan Center, and the Farm's collection of more than 25,000 square feet of Appalachian artifacts in seven museums, dedicated to Progress, Industry, Transportation, Children's Activity, Bowe's Doll & Carriage, Country Store, and Heritage Museum.  Through the family's dedication and vision, thousands of children and families have learned about and experienced Appalachian culture.
Mike and Henriella Perry worked with the United Way of River Cities to launch "Success by 6," a national initiative of United Way which seeks to ensure that all children are ready mentally, physically, developmentally, emotionally and socially to begin kindergarten.  The local Success by 6 is a collaborative of many community partners, including local child care centers; the public school system; local hospitals; local media; and chld-serving agencies.
Michael Perry was also part of an effort led by the Claude Worthington Benedum Foundation to develop a comprehensive 10-year plan for early childhood in the state.
The Perry Family is certainly deserving of the TEAM for West Virginia Children's Service to Children Award.
Many thanks to our sponsors.  Farmhouse Sponsors ($2500) – H3 LLC; WesBanco; Marshall Health
Country Store Sponsors ($1500):  King's Daughters Medical Center; Bailes, Craig, Sellards & Yon, PLLC; Champion Industries, Inc.; St. Mary's Medical Center; Ben McGinnis/Morgan Stanley; Valley Health; HIMG; Farrell, White & Legg, PLLC
Artisan Sponsors ($500):  Insurance Systems/Bloss & Dillard; City National Bank; Mountain State Insurance Agency; Larry and Cheryl Tweel; Huntington Physical Therapy; Drs. Joseph B. and Omayma Touma; Greene Ketchum; The Manahan Group; MIRC Construction; ProSource; Tudor's Biscuit World.
Special thanks to:  WV Photo Booth, Minuteman Press, Harrison Designs, Stony Point String Band, TEAM Board Members and Friends of the TEAM:  Martha Woodward, Dr. Ed Pino, and Phoebe Randolph.